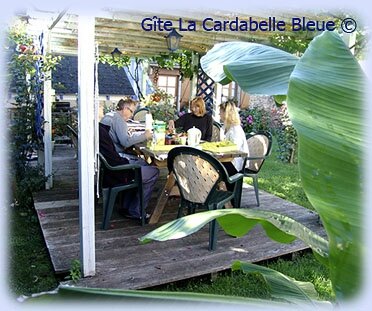 .
The Blue Cardabelle
waiting you in the heart of
Ste-Eulalie-d'Olt
one of the « Most Beautiful Villages in France »
The Blue Cardabelle ;
- A holyday cottage for 4 - 6 people
- Two themed bedrooms
- Vegetalized bathroom
- A sunny balcony-terrace
- A large terrace-pergola for your barbecues.
- A private access at the edge of river Lot for fishing, bathing, canoeing ...
The Cardabelle Bleue is also an ideal starting point for excursions to unspoilt nature of Aubrac and the Causses steeped in history ... The most unexpected discoveries through the medieval village with many art workshops. But also the Road of the Dolmens , the Menhir-Statues of Fenaille Museum, a tour that you must extend by the Soulages Museum at Rodez
- And many more... Secret places known by some,that we will have pleasure make you discover.


This blog is in progress
It is intended to introduce you the holiday cottage of the Blue Cardabelle, but also the many activities and discoveries that will accompany your stay. For further informations, you can contact Annie


06 mai 2015